WIN IN EVERY WAYS
High level of integration and customization to agency's processes
WIN IN FLEXIBILITY
High level of integration and customization to agency's processes
WIN IN AUTOMATION
High level of integration and customization to agency's processes
WIN IN SATISFACTION
High level of integration and customization to agency's processes
WIN IN EFFICIENCY
High level of integration and customization to agency's processes
WIN IN MOBILITY
High level of integration and customization to agency's processes
Need to find the best talents for your clients? PRIM Logix makes it easy. All you need to do is create a new job offer and PRIM Logix will guide you through a recruitment process tailored to your workflow. By combining our automatic resume analysis system with our advanced search algorithm, you will not miss a single application. 
In addition, thanks to PRIM Logix's unique criteria and competency system, you will quickly refine your search for star profiles. From there, automatically transform the candidate's profile information into a presentation document to send to your client. 
PRIM Logix is proud to provide your agency with a recruiting solution that will make your recruiting process more efficient to find the best talents and allow you to win the satisfaction of your clients. 
Most large recruitment agencies already use an application tracking system (ATS) or recruitment software. Many smaller agencies unfortunately do not… yet! However, they need more than just an ATS. They need an integrated system that includes an ATS and customer relation management (CRM) software to help them manage not only their candidates, but also their clients. PRIM Logix offers all this and more. 
JOB POSTING

Job board integrated to your Web site
Module for job application and account creation
Advanced job offers sharing
Broadcasting of job offers
Self-service posting option for your clients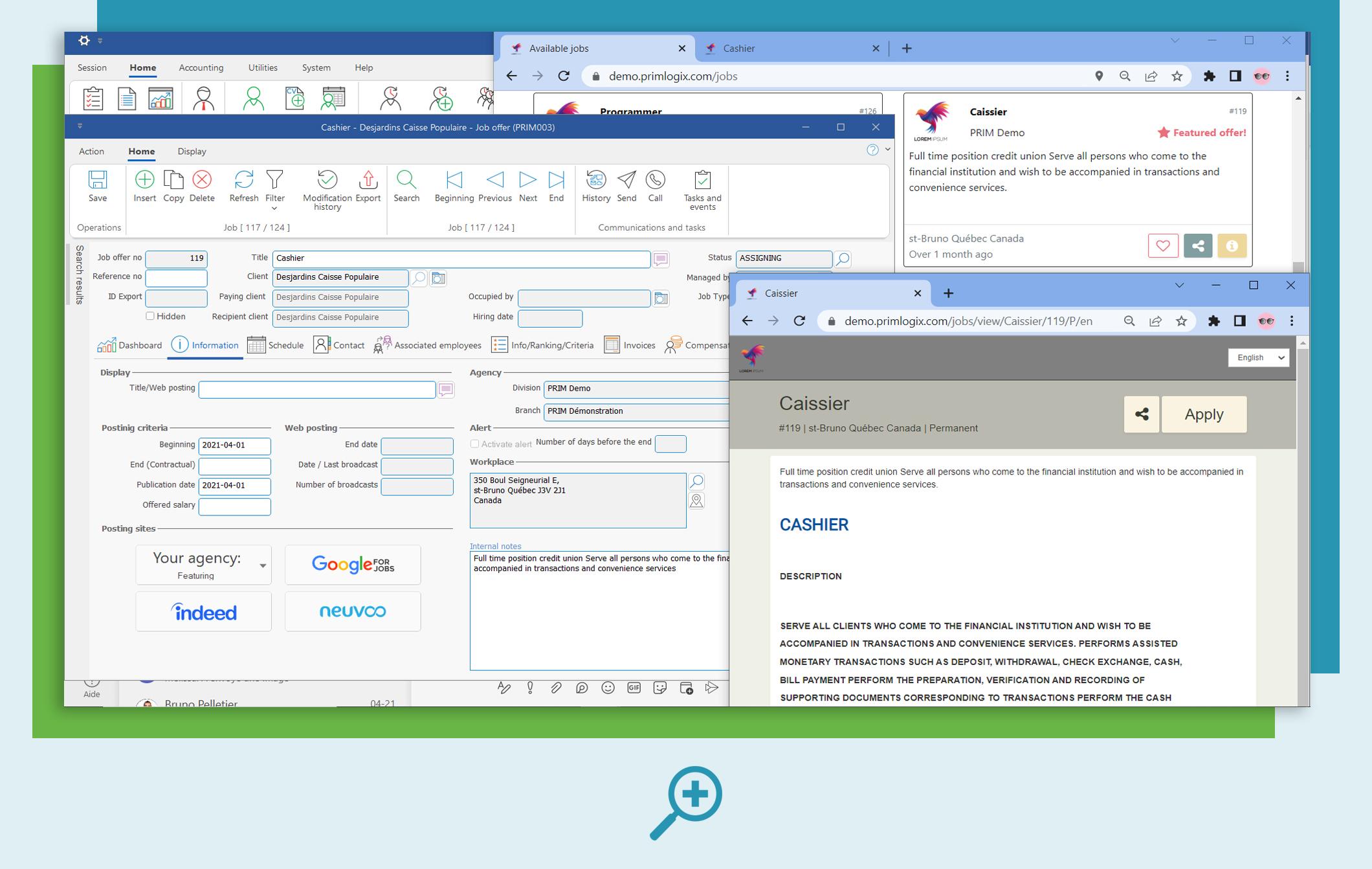 BANK OF CANDIDATES

Automatic resume analysis
Profile creation wizard for your candidates
Validation and follow-up of information
Advanced candidate search tools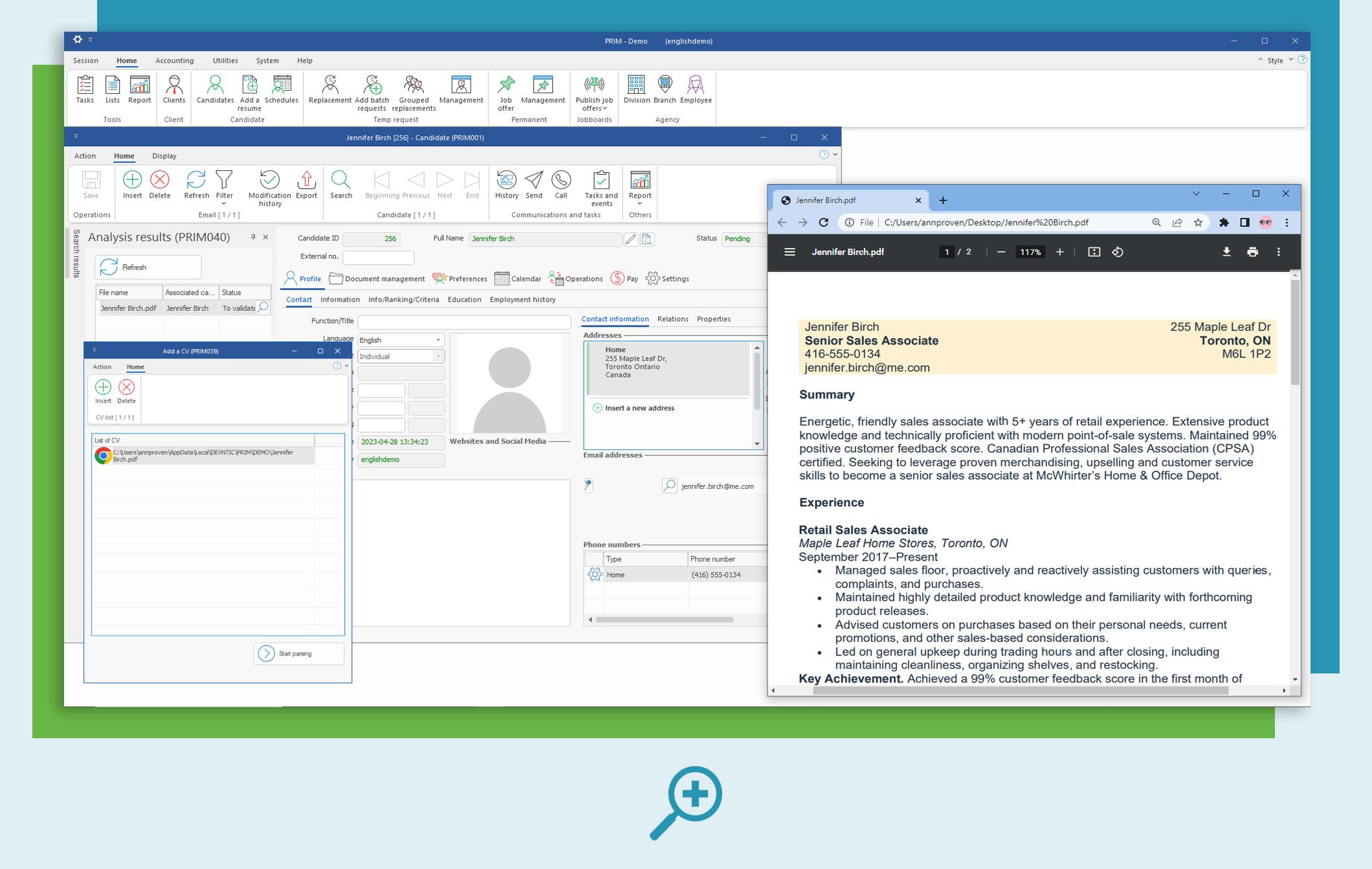 APPLICATION TRACKING SYSTEM (ATS)

Proposals via your bank of candidates
Application stages
Communications and history
Post-hire follow-ups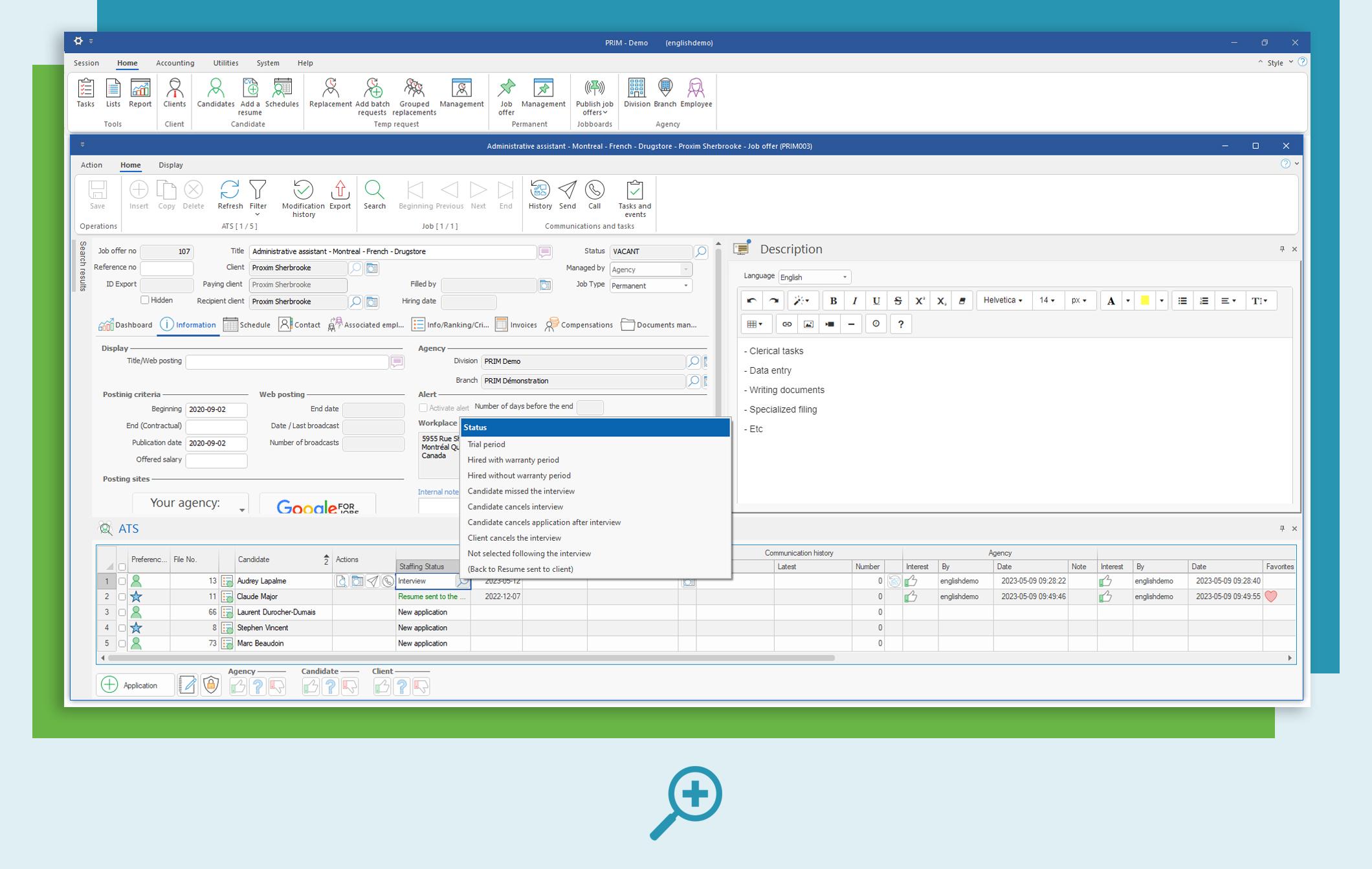 Job board integrated to your Web site
The job board is the best way to enrich your bank of candidates. Once a job is created in PRIM, it automatically becomes available for publication in your personalized job board, integrated to your website. Our WordPress extension makes this integration easy. Feature some of the jobs posted to give them more visibility! Everything is updated without having to modify your website. Candidates will be able to easily search through active job offers using search tools such as keywords, location, or your predefined criteria.
Module for job application and account creation
A candidate is interested in a job offer on your job board? They can add the job to their favorites or apply immediately. Win in flexibility by offering the application methods that suit you so the operation is quick and intuitive for your candidates.
Here are the three applications methods available:
Automatic resume analysis: candidates can drag and drop their resume and that's it!
Simple form: candidates who do not have a resume can fill in some basic information using a form.
Login to account: candidate who already have an account with your agency can simply login and apply.
Our user-friendly account creation tool allows the candidate who have a little more time to complete their profile, and thus access many more features in their portal.
Advanced job offers sharing
Don't limit yourself to your agency job board; drive more traffic to your jobs by sharing them on well-known message boards such as Indeed, Talent and Google for Jobs. And who And why not share them in your social network news feeds such as Facebook, LinkedIn and Twitter? With PRIM Logix, it's easy!
Broadcasting of job offers
Inform candidates that were matched through PRIM Logix tool about your job offers, either using notifications, SMS or emails.  Broadcasts can be triggered by your users or automatically, depending on your preference.
Self-service posting option for your clients
Offer an additional service to your clients. Self-serve job offers allow your clients to take advantage of your reputation to post their jobs on your job board without you having go manage them. Your client pays for their posting according to your packages before publishing the job offer, and they manage their applications. Include in your packages some options with extra fees for the number of broadcasts and the posting duration in order to maximize your revenues.
Automatic resume analysis
What could be better than a candidate profile that is automatically created by deconstructing the information contained in the resume? Win in efficiency by using our AI-based automatic resume analysis tool and have only a short validation to do following this accelerated creation. The analysis extracts for you the contact information, skills, work experience and education of candidates to present you with a standardized profile in PRIM Logix.
Profile creation wizard for your candidates
Your new candidates are invited to complete their profile using our creation wizard. This can include basic information, skills, preferences, availability, employment history, education, attachments (resume, cover letter, profile picture or other), etc. Win in flexibility by reducing the number of wizard steps if they are not necessary in your business processes.
Validation and follow-up of information
Your recruiters will be able to easily validate candidate profile information with our flexible resume viewer. They will also be able to follow each step of the file opening process by consolidating all tasks in our centralized tool.
Advanced candidate search tools
Wondering if a candidate in your database has knowledge of a software program you've never heard of? No problem! With our advanced search tool, you can search for keywords anywhere in the system: in the candidate's profile, in their resume, in their cover letter, in their communication history, etc.
Application tracking system (ATS)
Proposals via your bank of candidates

Don't just wait for new applications, let PRIM Logix do its job of matching candidates already in your active candidate database with the criteria defined in the job. You can also go further by doing more advanced searches yourself to find even more candidates. 
Application stages

Our collects a wealth of relevant information to help you make quick decisions. Not only does each application progress through the predefined stages of your workflow, but you can quickly:
See the between the candidate's residence and the place of work
See candidate's salary expectations
And much more!
Win in flexibility and automation
We can modify all our tracking mechanisms by adding or removing tracking steps, but also by making certain steps automatic according to various parameters. From day 1, you will notice gains in efficiency and satisfaction. 

Communications and history
Any communication sent (or received) from PRIM Logix related to a job application is stored in the communication history of the application, but also in the candidate and client files. Your employees will gain satisfaction with a tool that centralizes information. 

Post-hire follow-ups
Your goal is achieved when you hire, but it's not over yet! Not only does PRIM Logix make sure you don't forget to bill, but it also allows you to schedule follow-ups during your guarantee period. If there is a resignation or dismissal during this period, you will be able to pick up where you left off. Finally, PRIM Logix checks the warranty periods and clearly indicates when they are over.
Why do you need a recruiting software?
PRIM Logix is the most efficient tool as recruitment software. In addition to the many features, here are some of the advantages of our recruitment software for agencies:
Reduce cost per hire: improve speed of recruitment and increase jobs filled on time.
Improve the speed and efficiency of communications:

When recruiting, it's important to have a quick response time and to communicate effectively with your team members, clients, and candidates. PRIM Logix provides fantastic communication tools and allows you to automate tasks such as response emails and SMS.

More volume:

Increase the number of new candidates, which means a larger talent pool.

Invoicing:

An improved process enables you to bill quicker and be more accurate.

Better flow of information:

Eliminate silos by interconnecting processes in the same ecosystem. Share data and increase their visibility. By using a recruitment software, you can greatly improve your communication channels by keeping your clients and candidates in the loop.
You have questions about PRIM Logix Recruitment software? Logix?
Feel free to contact us: 1-844-849-7746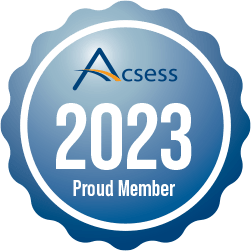 Why do you need PRIM Logix?
It's an integrated personal placement and recruitment solution developed for agencies and HR professionals. It covers the entire hiring cycle, and it's much more than a mixture of an ATS and a CRM ...