Headhunter Software developed for Talent Analysis
Find the best candidates with the Automatic CV analysis system and the creation of Complete profiles.
APPLICANTS TRACKING (ATS)
Unique talents system

Notes and classification criterias

Complete informations about candidates

Boolean researches

 
JOB BOARD
Job offers displaying

Credit card payments

Candidates information updating

Invoices consultation

 
MANAGEMENT TOOLS
Vocabulary customization

Custom lists

Dashboards

Results analysis tools

 
HUMAN RELATIONS (CRM)
Email marketing service

Candidates,clients & prospects followup

Outlook synchronisation

Communication history

 
BILLING AND PAYMENT
Individual or batch invoice dispatching

Graphical display of accounts aging

Commissions management

Data transfer to an accounting system

 
Applicants tracking system (ATS)
Customized system
Following the creation of a position and candidate list, PRIM will guide you through a custom made hiring process according to your work methods. By combining our automatic resume analysis system and Boolean query, you will never miss out on an application.
Profile Suggestion
Thanks to its performant research tools, as well as its profile-based candidate auto suggestion feature, you can quickly build a list for all of your staffing need. A powerful filter system allows you to isolate candidates based on a multitude of criteria.
Automatic transmission
Automatic document transmission to a third party, interest validation and automatic monitoring of testing and guarantee periods are but a few of the tools available in our headhunter software.
See more functionalities
Permanent position management with advanced criteria
Automatic resume analysis
Customized application tracking
Automated document assembly and transmission
Keyword search
Automated monitoring of trial or guarantee periods
Quick access to the customer, candidate and position files
Direct billing for staffing (if billable)
Hiring status dashboard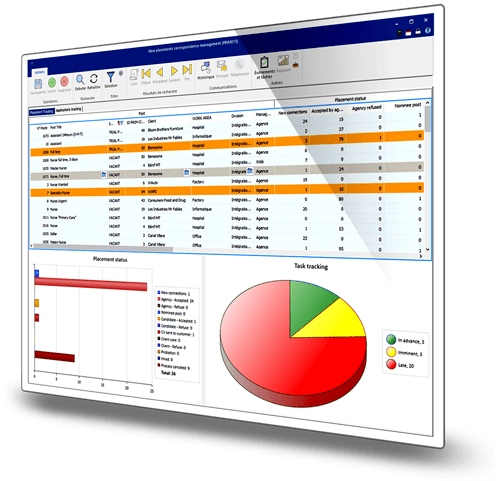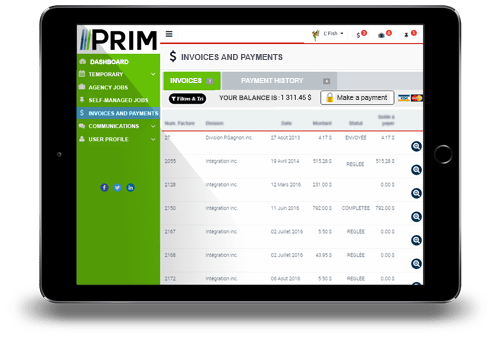 Candidate Profiles
This interface allows you to post new positions on your web site, receive applications with complete profiles directly in PRIM through our automatic resume analysis system and submit account aging directly to your clients.
Customer Access
Decked in your company's colours, the interface allows customers to create a new staffing need and allows candidates to view their communication history. You can easily make the bridge between your PRIM usage, your clients and your candidates.
See more functionalities
Display permanent or temporary positions
Candidate registration and automatic resume analysis
Possibility to apply online for a staffing position (candidate interface)
Communication history (client/candidate interface)
Update contact and personal information (client/candidate interface)
Create a new request (client interface)
Consult account aging (client interface)
Recruitment status information (customer interface)
Manage availabilities by day or by work shift, with recurrence (candidate interface)
Download assignment details (candidate interface)
Detailed schedule (client/candidate interface)
Dynamic Lists
Data is optimized and available automatically or on request. To analyze your candidate or customer pool, PRIM allows you to quickly build dynamic, customized lists.
Customized Reports
With more than 55 custom reports and the ability to produce new customized reports, you can analyze staffing profitability, generate candidate proposition documents or customized contracts. The available dashboards allow you to quickly see the progress in your files.
User groups
PRIM allows you to manage access to information, keep a history of changes and access a list of terms used to personalize your experience.
See more functionalities
Automated reports
Security groups
Performance charts
Account aging
Customers, employees and candidates files
Dashboards and overview
Division management
Union convention
Complete PRIM management
Change History
Export to Microsoft Excel
Automatic contract generation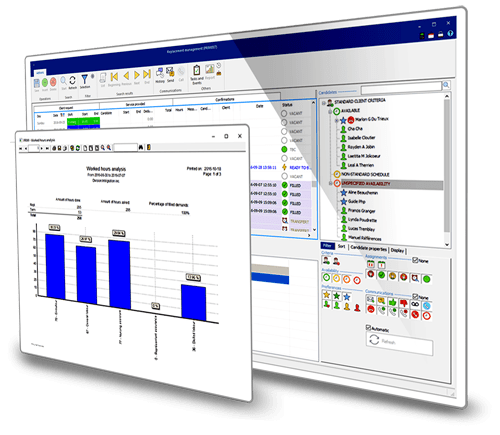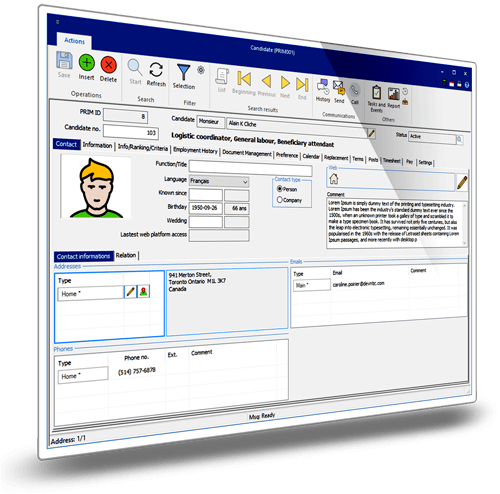 Integrated Customer Relationship Management
In PRIM, your CRM is integrated in every module to keep information at your fingertips. Easily access a candidate's communication history from the applications monitoring system or schedule a client meeting from the invoicing tool.
Easy Communications
With PRIM, staying in touch with your customers or your candidates has never been easier. Never forget an important appointment. At any time, you can write an e-mail or an SMS to plan your next interview.
See more functionalities
Complete client, candidate and employee files
Communication History
Employment History
Communication templates
Send emails or SMS from PRIM
Task and event management
Automatic reminders and tracking
Advanced custom filters
Fast billing
PRIM covers the transactional basis of the placement. With a few clicks, you can issue contracts, invoices and more.
Internal or external commissions
Convert any position into an invoice and send it automatically to the customer. PRIM allows you to manage payment encashment and determine internal or external commissions. No need to think about trial or guarantee periods since they are automatically taken care of.
Accounting System
Once the accounting data is ready, simply export it to your accounting system.
See more functionalities
Customer invoice compilation over a period of time
Internal perks and commission compilation
Invoice issuance and account aging
Encashment management
Synchronization with your accounting system or online payroll
Online invoices and account aging (exclusive to the web interface)
Bill payment by credit card (exclusive to the web interface) (Pivotal payment partnership)
Data compilation of gross payroll according to rates and hours
Online gross payroll data (exclusive to the web interface)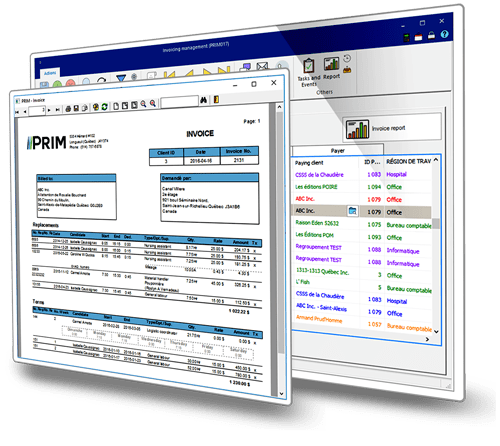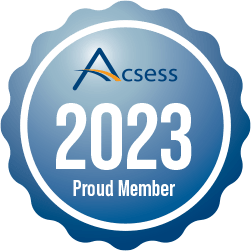 It's an integrated personal placement and recruitment solution developed for agencies and HR professionals. It covers the entire hiring cycle, and it's much more than a mixture of an ATS and a CRM ...